Grupo Gtd
---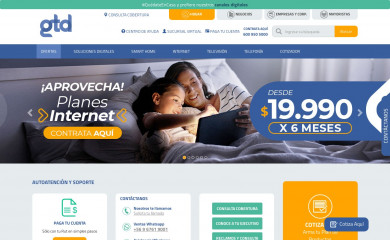 With Gtd now you too can enjoy total superiority on the Internet. In your home, you will have the best service experience and navigation with more speed and greater stability. Join our extensive fiber optic network and take advantage of our launch offers.
Detection Rating: 304 out of 21,366
Market Share: 0.030%
Alias: Gtd Internet S.A.
Technology Profile
Summary of technologies used by websites hosted on Grupo Gtd
| Rank | Technology | Total Domains | Percent | Category |
| --- | --- | --- | --- | --- |
| 1 | Apache | 2,395 | 54.57% | Web Server |
| 2 | PHP | 2,101 | 47.87% | Programming Language |
| 3 | MySQL | 1,412 | 32.17% | Database |
| 4 | WordPress | 1,258 | 28.66% | Blog, CMS |
| 5 | Nginx | 932 | 21.23% | Web Server |
| 6 | CentOS | 349 | 7.952% | Operating System |
| 7 | Windows Server | 302 | 6.881% | Operating System |
| 8 | IIS | 280 | 6.380% | Web Server |
| 9 | Microsoft ASP.NET | 251 | 5.719% | Web Framework |
| 10 | Ubuntu | 229 | 5.218% | Operating System |
Save, download, and filter the full technology report for Grupo Gtd