IPLAN
---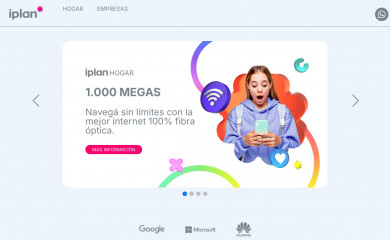 IPLAN is one of the leading companies in the provision of Telecommunications and IT services for companies and homes in Argentina. The only company in the market that connects with all its residential customers through a Fiber Optic Direct to Home (FTTH) network. It was founded in 2000 and has been growing steadily for more than 20 years.
Detection Rating: 586 out of 21,366
Market Share: 0.013%
Alias: NSS S.A.
Technology Profile
Summary of technologies used by websites hosted on IPLAN
| Rank | Technology | Total Domains | Percent | Category |
| --- | --- | --- | --- | --- |
| 1 | Apache | 1,259 | 69.14% | Web Server |
| 2 | PHP | 1,111 | 61.01% | Programming Language |
| 3 | MySQL | 531 | 29.16% | Database |
| 4 | WordPress | 484 | 26.58% | Blog, CMS |
| 5 | Debian | 271 | 14.88% | Operating System |
| 6 | Windows Server | 261 | 14.33% | Operating System |
| 7 | IIS | 249 | 13.67% | Web Server |
| 8 | Microsoft ASP.NET | 194 | 10.65% | Web Framework |
| 9 | Nginx | 185 | 10.16% | Web Server |
| 10 | Ubuntu | 184 | 10.10% | Operating System |
Save, download, and filter the full technology report for IPLAN