Microsoft Corporation
---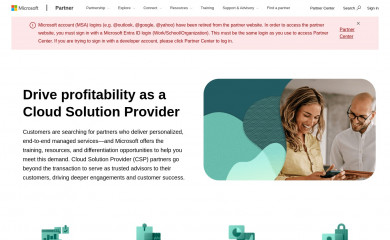 Expand revenue opportunities and deliver innovative solutions to customers using our comprehensive cloud portfolio with your value-added services. Get our step-by-step guide to learn more about the opportunities and ways to get started.
microsoft.com/en-us/cloudandhosting
Detection Rating: 19 out of 21,356
Market Share: 0.731%
Technology Profile
Summary of technologies used by websites hosted on Microsoft Corporation
Market Share By Site Popularity
The market share for Microsoft Corporation decreased by 0.298 percentage points for Most Popular Sites, more than any other segment during the same period of time.
| | Alexa Rank | Websites | Market Share | Market Share Change |
| --- | --- | --- | --- | --- |
| Most Popular Sites | < 1,000 | 22 | 2.202% | -11.92% |
| Very Popular Sites | < 10,000 | 223 | 2.230% | -1.76% |
| Popular Sites | < 100,000 | 1,826 | 1.826% | 5.55% |
| Less Popular Sites | < 1,000,000 | 13,114 | 1.311% | 8.17% |
| All Sites | | 108,695 | 0.731% | 4.13% |
Market Share History
This chart shows the history of detected websites using Microsoft Corporation.
In the last 6 months, market share has increased 4.13% from 0.702% to 0.731%