HiNet
---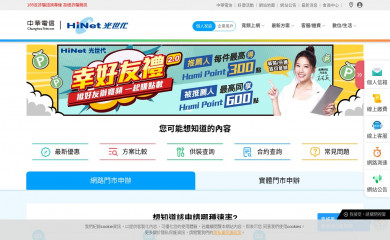 Chunghwa Telecom's HiNet network service portal. Taiwan's largest ISP provides broadband Internet access, optical generation fiber optic ADSL services and mailbox news hichannelXuite and other life entertainment information. It also extends to corporate and government information security cloud network applications. This is your first stop on the Internet.
Detection Rating: 172 out of 21,366
Market Share: 0.063%
Alias: Chunghwa Telecom Co., Ltd.
Technology Profile
Summary of technologies used by websites hosted on HiNet
| Rank | Technology | Total Domains | Percent | Category |
| --- | --- | --- | --- | --- |
| 1 | PHP | 4,095 | 44.83% | Programming Language |
| 2 | Apache | 3,989 | 43.67% | Web Server |
| 3 | Windows Server | 2,901 | 31.76% | Operating System |
| 4 | IIS | 2,592 | 28.37% | Web Server |
| 5 | Microsoft ASP.NET | 2,283 | 24.99% | Web Framework |
| 6 | Nginx | 1,255 | 13.74% | Web Server |
| 7 | MySQL | 808 | 8.845% | Database |
| 8 | WordPress | 784 | 8.582% | Blog, CMS |
| 9 | CentOS | 637 | 6.973% | Operating System |
| 10 | Joomla | 383 | 4.193% | Other CMS, CMS |
Save, download, and filter the full technology report for HiNet