MissDomain Group AB
---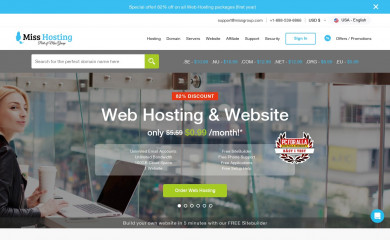 Web Hosting company that offers cPanel Web Hosting to a unbeatable price! Our goal is to provide the absolute best support and services at the best price.
Detection Rating: 481 out of 21,356
Market Share: 0.016%
Technology Profile
Summary of technologies used by websites hosted on MissDomain Group AB
Market Share By Site Popularity
The market share for MissDomain Group AB increased by 0.001 for Less Popular Sites, more than any other segment for the same time period.
| | Alexa Rank | Websites | Market Share | Market Share Change |
| --- | --- | --- | --- | --- |
| Most Popular Sites | < 1,000 | n/a | n/a | 0% |
| Very Popular Sites | < 10,000 | n/a | n/a | 0% |
| Popular Sites | < 100,000 | 1 | 0.001% | 0% |
| Less Popular Sites | < 1,000,000 | 32 | 0.003% | 50% |
| All Sites | | 2,334 | 0.016% | 0% |
Market Share History
This chart shows the history of detected websites using MissDomain Group AB.
The market share is the same now as it was 6 months ago