GitHub
---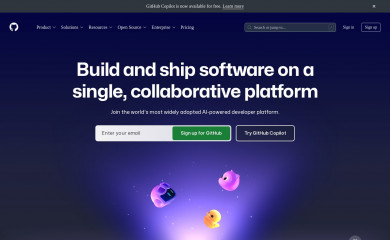 GitHub is where over 56 million developers shape the future of software, together. Contribute to the open source community, manage your Git repositories, review code like a pro, track bugs and features, power your CI/CD and DevOps workflows, and secure code before you commit it.
Detection Rating: 75 out of 21,145
Market Share: 0.163%
Alias: GitHub, Inc.
Technology Profile
Summary of technologies used by websites hosted on GitHub
| Rank | Technology | Total Domains | Percent |
| --- | --- | --- | --- |
| 1 | Ruby | 19,230 | 97.24% |
| 2 | Ruby on Rails | 19,230 | 97.24% |
| 3 | GitHub Pages | 19,218 | 97.18% |
| 4 | Jekyll | 792 | 4.005% |
| 5 | Hugo | 653 | 3.302% |
| 6 | Node.js | 383 | 1.937% |
| 7 | Hexo | 272 | 1.375% |
| 8 | Nginx | 268 | 1.355% |
| 9 | PHP | 233 | 1.178% |
| 10 | Gatsby | 202 | 1.021% |
Save, download, and filter the full technology report for GitHub