MULTACOM CORPORATION
---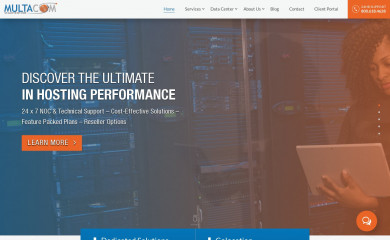 MULTACOM is an award-winning Los Angeles, California data center providing custom dedicated servers, hybrid cloud / private cloud, and colocation solutions. We deliver what our customers want exactly the way they want it. We Make The 'Net' Work.
Detection Rating: 428 out of 21,356
Market Share: 0.018%
Technology Profile
Summary of technologies used by websites hosted on MULTACOM CORPORATION
Market Share By Site Popularity
With a 0.01 percentage point decrease since 2021-05-30, the detection rating for MULTACOM CORPORATION has fallen the most amongst Very Popular Sites.
| | Alexa Rank | Websites | Market Share | Market Share Change |
| --- | --- | --- | --- | --- |
| Most Popular Sites | < 1,000 | n/a | n/a | 0% |
| Very Popular Sites | < 10,000 | n/a | n/a | -100% |
| Popular Sites | < 100,000 | 24 | 0.024% | -17.24% |
| Less Popular Sites | < 1,000,000 | 212 | 0.021% | 40% |
| All Sites | | 2,694 | 0.018% | 12.5% |
Market Share History
This chart shows the history of detected websites using MULTACOM CORPORATION.
In the last 6 months, market share has increased 12.50% from 0.016% to 0.018%