CDN77
---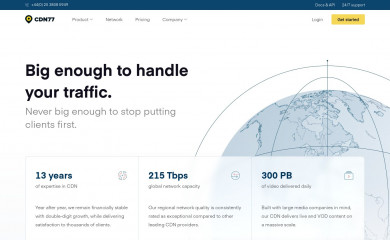 70 Tbps+ CDN with global coverage across 6 continents. Accelerate your content delivery and reach your users from the edge with a 14-day free trial.
Detection Rating: 817 out of 21,356
Market Share: 0.007%
Alias: Datacamp Limited
Technology Profile
Summary of technologies used by websites hosted on CDN77
Market Share By Site Popularity
With a 0.1 percentage point decrease since 2021-06-13, the detection rating for CDN77 has fallen the most amongst Most Popular Sites.
| | Alexa Rank | Websites | Market Share | Market Share Change |
| --- | --- | --- | --- | --- |
| Most Popular Sites | < 1,000 | n/a | n/a | -100% |
| Very Popular Sites | < 10,000 | 14 | 0.140% | 0% |
| Popular Sites | < 100,000 | 49 | 0.049% | 16.67% |
| Less Popular Sites | < 1,000,000 | 147 | 0.015% | 25% |
| All Sites | | 1,069 | 0.007% | 40% |
Market Share History
This chart shows the history of detected websites using CDN77.
In the last 6 months, market share has increased 40.00% from 0.005% to 0.007%