Hosting Telesystems
---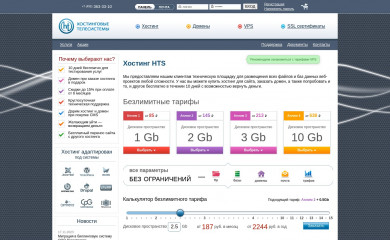 You can buy hosting for a website at an affordable price from us. Great rates, inexpensive domains, free trial period. Leave a request on the site.
Detection Rating: 701 out of 21,356
Market Share: 0.009%
Alias: ZAO Hosting Telesystems
Technology Profile
Summary of technologies used by websites hosted on Hosting Telesystems
Market Share By Site Popularity
The market share for Hosting Telesystems decreased by 0.005 percentage points for Popular Sites, more than any other segment during the same period of time.
| | Alexa Rank | Websites | Market Share | Market Share Change |
| --- | --- | --- | --- | --- |
| Most Popular Sites | < 1,000 | n/a | n/a | 0% |
| Very Popular Sites | < 10,000 | n/a | n/a | 0% |
| Popular Sites | < 100,000 | 3 | 0.003% | -62.5% |
| Less Popular Sites | < 1,000,000 | 133 | 0.013% | -23.53% |
| All Sites | | 1,393 | 0.009% | -10% |
Market Share History
This chart shows the history of detected websites using Hosting Telesystems.
In the last 6 months, market share has decreased 10.00% from 0.010% to 0.009%