Vodafone
---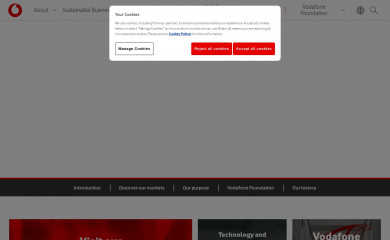 Vodafone is a leading technology communications company in Europe and Africa, keeping society connected and building a digital future. Find out more!
Detection Rating: 440 out of 21,399
Market Share: 0.019%
Alias: Vodafone GmbH
Technology Profile
Summary of technologies used by websites hosted on Vodafone
Market Share By Site Popularity
With a 0.03 percentage point decrease since 2021-03-28, the detection rating for Vodafone has fallen the most amongst Very Popular Sites.
| | Alexa Rank | Websites | Market Share | Market Share Change |
| --- | --- | --- | --- | --- |
| Most Popular Sites | < 1,000 | n/a | n/a | 0% |
| Very Popular Sites | < 10,000 | 9 | 0.090% | -25% |
| Popular Sites | < 100,000 | 43 | 0.043% | -12.24% |
| Less Popular Sites | < 1,000,000 | 209 | 0.021% | -12.5% |
| All Sites | | 2,622 | 0.019% | -5% |
Market Share History
This chart shows the history of detected websites using Vodafone.
In the last 6 months, market share has decreased 5.00% from 0.020% to 0.019%