Serverplan srl
---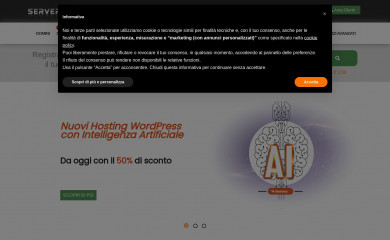 SERVERPLAN ➤ Hosting, Dedicated and Shared Servers, VPS, Domain Management and Advanced Web Services ✔️Fast assistance 24h ✔️ Discover our solutions.
Detection Rating: 101 out of 21,356
Market Share: 0.117%
Alias: Server Plan S.r.l.
Technology Profile
Summary of technologies used by websites hosted on Serverplan srl
Market Share By Site Popularity
The market share for Serverplan srl increased by 0.012 for All Sites, more than any other segment for the same time period.
| | Alexa Rank | Websites | Market Share | Market Share Change |
| --- | --- | --- | --- | --- |
| Most Popular Sites | < 1,000 | n/a | n/a | 0% |
| Very Popular Sites | < 10,000 | n/a | n/a | 0% |
| Popular Sites | < 100,000 | 5 | 0.005% | 0% |
| Less Popular Sites | < 1,000,000 | 112 | 0.011% | 0% |
| All Sites | | 17,336 | 0.117% | 11.43% |
Market Share History
This chart shows the history of detected websites using Serverplan srl.
In the last 6 months, market share has increased 11.43% from 0.105% to 0.117%