VeriSign
---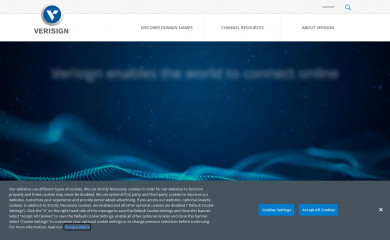 Verisign enables the security, stability and resiliency of key internet infrastructure and services, including the .com and .net domains. The domains that define the internet are Powered by Verisign.
Detection Rating: 2,324 out of 21,356
Market Share: 0.001%
Alias: VeriSign Global Registry Services
Technology Profile
Summary of technologies used by websites hosted on VeriSign
Market Share By Site Popularity
With a 0.01 increase since 2021-06-06, the detection rating for VeriSign has improved the most amongst Very Popular Sites.
| | Alexa Rank | Websites | Market Share | Market Share Change |
| --- | --- | --- | --- | --- |
| Most Popular Sites | < 1,000 | 1 | 0.100% | 0% |
| Very Popular Sites | < 10,000 | 2 | 0.020% | 100% |
| Popular Sites | < 100,000 | 6 | 0.006% | -25% |
| Less Popular Sites | < 1,000,000 | 27 | 0.003% | 0% |
| All Sites | | 185 | 0.001% | 0% |
Market Share History
This chart shows the history of detected websites using VeriSign.
The market share is the same now as it was 6 months ago