Google Inc.
---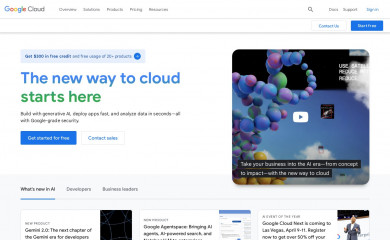 Meet your business challenges head on with cloud computing services from Google, including data management, hybrid & multi-cloud, and AI & ML.
Detection Rating: 3 out of 21,321
Market Share: 5.238%
Technology Profile
Summary of technologies used by websites hosted on Google Inc.
Showing rows 1 - 10 | ~799,176 websites
Save, download, and filter the full technology report for Google Inc.
Market Share By Site Popularity
With a 1.141 percentage point decrease since 2021-08-01, the detection rating for Google Inc. has fallen the most amongst Less Popular Sites.
| | Alexa Rank | Websites | Market Share | Market Share Change |
| --- | --- | --- | --- | --- |
| Most Popular Sites | < 1,000 | 100 | 10.01% | 1.93% |
| Very Popular Sites | < 10,000 | 542 | 5.421% | 1.12% |
| Popular Sites | < 100,000 | 4,325 | 4.325% | -12.25% |
| Less Popular Sites | < 1,000,000 | 52,765 | 5.276% | -17.78% |
| All Sites | | 799,176 | 5.238% | -14.02% |
Market Share History
This chart shows the history of detected websites using Google Inc..
In the last 6 months, market share has decreased 14.02% from 6.092% to 5.238%